Hier zijn een aantal facts over ons tweede Maria:
Katja
Maria
Slotte, geboren en opgegroeid in west-Finland, in een dorpje waar 90% van de bevolking Zweedstalig is. Sinds een jaar of elf woont zij in Nederland, en werkt als freelance
zangeres
, pianiste en
zangdocente
. Katja haalde haar Master's met als studierichting Zang Lichte Muziek en Muziekpedagogiek aan de Sibelius-Academy in Helsinki, en studeerde Braziliaanse muziek en Jazz aan het Rotterdams Conservatorium. In Kopenhagen specialiseerde zij zich tijdens een 3-jarige studie bij Complete Vocal Institute in zangtechnieken, en geeft nu als Authorised CVT Teacher les aan zangers in elk genre.
Katja heeft als zangeres en pianiste gewerkt in verschillende formaties van Braziliaanse muziek en Jazz tot Pop, Scandinavische volksmuziek en in theatervoorstellingen. Behalve in The More The Mary is ze op dit moment ook te horen in een duo samen met de Duitse pianist
Thomas Böttcher
.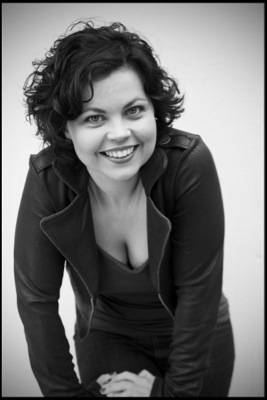 Foto: Keke Keukelaar