The More The Mary winnaars Het Rotterdams Open Podium 2013!
Afgelopen vrijdag 12 april hebben we de vakjuryprijs van de finale van het Rotterdams Open Podium in Theater Zuidplein gewonnen! De hoofdprijs is een avondvullend optreden in het seizoen 2013-2014 in Theater Zuidplein en professionele begeleiding van het theater.
We zijn er heel erg blij met deze prijs, en kijken nu al naar de theatershow uit!
Ook een groot dank aan iedereen die ons hebben gesteund tijdens ons werkproces en/of een bijdrage hebben geleverd aan het ontwikkelen van ons show tot nu toe. Een speciale dank aan choreograaf
Jaakko Toivonen
, regisseurs Henriette Benzacken en
Marjan Barlage
!
Lees hier het officiële bericht over de finale, op de website van het Rotterdams Open Podium.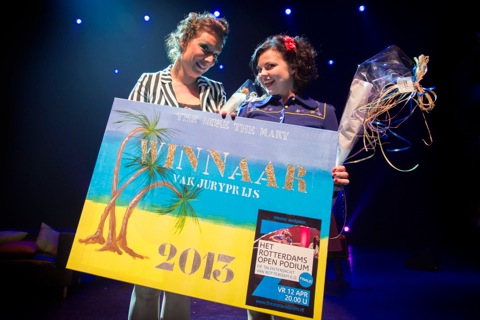 ©
Hans Hordijk fotografie